Managing and storing digital media contents can be a challenge with increasing high quality digital photos and videos on multiple devices, such as smartphones, tablets, and digital cameras.
Novatec took notice of this issue from early on, and has been developing nMedia Solution,
a PC-less solution to import import photos and videos from digital cameras, camcorders,
and smartphones and viewing them on your TV in seconds.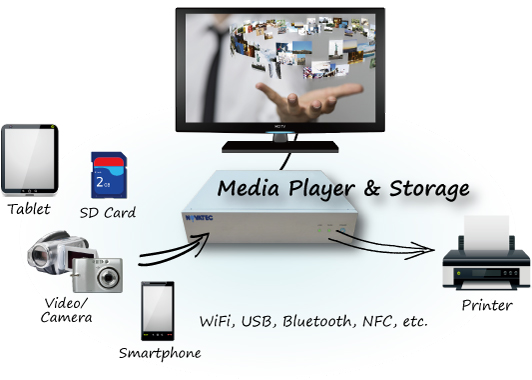 Our solution is not limited to the use case above, but can be applied to any product that concerns digital media content. We have the expertise and experience to help our clients from any stage of the product development; from planning to project management, design, and hardware manufacturing support.
Software Features (Examples)
Content
Feature
Description
DTV
Viewing
Full HD (1080p)
On-screen program information
EPG
TV guide
Program info
Recording
Record programs
Internet
YouTube
Recommended, popular, favorites, search and other streaming features
VOD
Rent/purchase contents video and music contents online,
and either stream or download it
Video camera/Camera
Copy
Copy contents from USB, SD card, and network to HDD,
dub videos playing on an analog video camera connected with an AV cable
Playback
Play contents from HDD, USB, SD card, and networked
(Photo playback: slideshow, thumbnail view, zoom)
Music
Copy
Copy to HDD from USB, SD card, and network
Playback
Playback contents from HDD, USB, SD card, and network
(Show album art during playback or title selection)
Interactive TV
Cable TV
tru2way streaming open platform
digital terrestrial broadcasting
DVB-MHP
IPTV
Yahoo! Widget Engine
BD-J
Blu-ray Disc Java
Other
Server
Media server features to stream to networked devices (DLNA)
Security camera
IP door monitor
Record to mobile devices
Transcode content to supported format and copy to device via USB
Sync with PC
Sync with content library on PC by installing an application
Database
Group contents, search functions